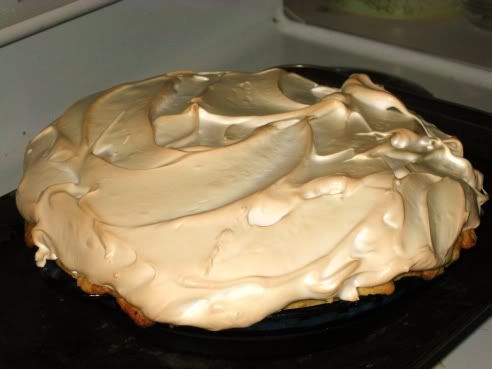 One of her most delicious things she made was her homemade Lemon Meringue Pie with homemade crust. Perfection.
Several times she tried to show me how to make pie crust, but I just didn't have the knack. I still will generally buy a premade crust rather than make it from scratch, I just don't have the "touch".
I was trying to figure out something to make for Easter dessert when my husband suggested Lemon Meringue pie. I've bought the store made ones, but they are expensive and it seems have been frozen. They just aren't that good.
I didn't relish the thought of making the pie from scratch - even now that it's done I feel like a kid made to do something against their will - and had no real idea where to start.
Having inherited my mother in law's recipe collection, I searched for the one she used. I found four different recipes, I had no idea which one was the "authentic" recipe. My husband had no idea, so I gave a mental shrug and set off to find a recipe that would become the new "authentic."
I check Martha Stewart's cookbooks and her website, but I didn't like the recipes I found. I headed over to Allrecipes, but there are so many to chose from that all are touted as being "the best". So I did what I should have done before, I googled it.
Up popped
a recipe at allrecipes
that didn't come up when I did a search. That one seemed popular, after reading several of the comments I saw what changes could be made to make it better and decided to use that as the filling.
But then I needed a crust.
I hate making crust. Really, really, really hate it. I can't get the water or the butter the right temperature, it cracks after baking, just too many problems to make it a light hearted baking event. But I couldn't make this and just use a store bought pie crust! Okay, I could, you all never would have known the difference but it wouldn't have felt right.
Back to Martha Stewart. Someone at Allrecipes said they used her
Pate Brisee recipe
and it worked really well. So I dug out of
The Martha Stewart Baking Handbook
, using the blind baking instructions from one of her cream pie recipes.
It worked, but the baked pie shell came out of the oven cracked on the side. Luckily, knowing I had to put it in the oven to bake the meringue, I was able to take some excess baked dough off one side and "glue" it on to the holes with egg white. It seems to have worked. But it seems I still don't have the "knack."
So, I present my cobbled together recipe for Lemon Meringue Pie in all it's glory. Enjoy. I'm tired.
Lemon Meringue Pie
makes 1 deep dish 9" pie
Crust:
2 1/2 cups all-purpose flour
1 teaspoon salt
1 teaspoon sugar
1 cup (2 sticks) unsalted butter chilled and cut into small pieces
6 Tbs ice water
Lemon Filling:
1 1/2 cups white sugar (substitute quick dissolving sugar to reduce chance of weeping filling)
3 tablespoons all-purpose flour
1/4 cup and 1 teaspoon cornstarch
1/4 teaspoon salt
2 1/4 cups milk
3 lemons, juiced and zested (I got 2/3 cup lemon juice form the 3 lemons)*
3 tablespoons butter
6 egg yolks, beaten
Meringue:
6 egg whites
1/2 cup and 1 tablespoon white sugar
1/4 tsp cream of tarter
To make crust:
In large bowl combine flour, salt, and sugar. Add butter, combining until the mixture resembles coarse meal.
Add ice water tablespoon by tablespoon until dough holds together without being wet or sticky. To test, squeeze a small amount together: If it is crumbly, add more ice water, 1 tablespoon at a time. I used 6 tbs water in total.
Divide dough into two equal balls. Flatten each ball into a disc and wrap in plastic. Transfer to the refrigerator and chill at least 1 hour. Dough may be stored, frozen, up to 1 month.
Remove crust from fridge. Roll into a circle big enough for your pie plate (I used a 10" circle), 1/4" thickness. Place dough into deep dish pie plate, carefully making sure the dough is snug into the plate. Prick all over the base with fork. Brush edges with beaten egg (optional) and return to fridge for 30 minutes.
Preheat the oven to 375F degrees.
Remove pie plate from fridge. Carefully line the pie plate with parchment paper, gently pressing the parchment into the edges of the crust; weigh down parchment with dried beans or pie weights.
Bake until edges of pastry begin to turn golden, about 15 minutes. Carefully remove pie weights and parchment paper. Continue to bake until crust is golden brown, 15 to 20 minutes more. Transfer the crust to a wire rack to cool completely.
Preheat oven to 350 degrees F (175 degrees C).
To Make Meringue:
In a large bowl, whip egg whites and cream of tarter until foamy. Add sugar gradually, and continue to whip until stiff peaks form, about 5 to 10 minutes with my stand mixer on high.
To Make Lemon Filling:
In a medium saucepan, whisk together all filling ingredients except butter. Cook over medium-high heat, stirring constantly, until thick like a pudding, about 10 minutes. Watch it carefully, it thickens "all of a sudden" and you don't want it to burn. It should look like French Vanilla or Lemon pudding. Quickly whisk in butter and remove from heat.
Pour filling into baked pastry shell.
While filling is hot, spread meringue over pie, sealing the edges at the crust.
Bake in preheated oven for 10 minutes, or until meringue is golden brown.

Let pie come to room temperature
, then refrigerate for at least 5 hours or overnight to set filling.
*Note: for a "clearer" filling, strain lemon juice through a fine strainer to remove any pulp or small seeds.
Notes:
After cutting the pie, I noticed that the filling was cracked and weepy. That was a disappointment as I was so excited about my first ever Lemon Meringue pie, but the filling was still delicious.
Next time quick dissolving sugar instead of regular sugar may help. According to one site, "Sugar is hygroscopic so the undissolved granules will absorb moisture inside the pie and basically sugar syrup will leak out."
Still more checking on why my filling cracked and ran. I may not have let the filling completely come to room temperature. So when I stuck it in the fridge and it was still hot/warm, it cooled too quickly and broke down. Some people suggest you should never put a Lemon Meringue pie in the fridge, but honestly as it's made with eggs I don't know that I would risk not putting it in the fridge.