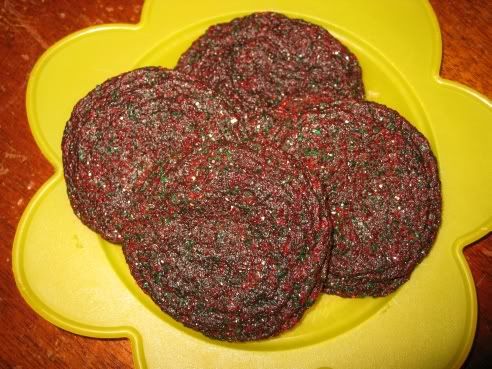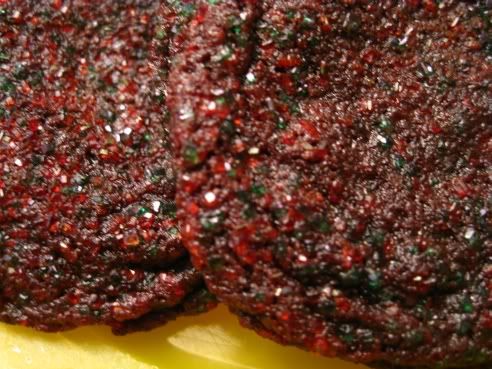 Opening my copy of
Martha Stewart's Cookies
at random will most often yield this recipe, the spine is broken at this page from use.
This is not a cookie for the chocolate faint of heart. Don't eat one if you can "take or leave a chocolate cookie". This is a cookie for a chocolate craving.
The ingredients are simple, nothing to be melted or very expensive. You can use a high grade cocoa powder and exotic vanilla, or a cheaper cocoa powder and common real vanilla, it doesn't really matter.
This cookie makes a wonderful ice cream sandwich, or filled with your favourite cookie filling. On it's own it's plain yet satisfying.
The recipe is also available on her
website
.
Chocolate Sugar Cookies
Martha Stewart's Cookies
makes at least 42 cookies
2 cups all-purpose flour
3/4 cup Dutch cocoa powder
1 teaspoon baking soda
1/2 teaspoon salt
1 1/4 cups butter room temperature
2 cups sugar, plus more for dipping
2 large eggs
2 teaspoons pure vanilla extract
Sift together flour, cocoa powder, baking soda, and salt. Set aside.

In the bowl of an electric mixer fitted with the paddle attachment, beat butter, 2 cups sugar, and eggs on medium speed until light and fluffy, about 2 minutes. Add vanilla, and mix to combine. Gradually add dry ingredients, and combine with mixer on low speed. Cover bowl with plastic wrap, and chill until dough is firm, about 1 hour.

Preheat the oven to 350 degrees. Line baking sheets with parchment paper. Roll dough into 1-inch balls. Dip top of each ball into sugar. Place on prepared baking sheets about 1 1/2 inches apart. Bake until set, about 8 minutes. Cool on baking sheets for 5 minutes before transferring to a wire rack to cool completely.

Only after they were baking, when I entered this recipe did I realize that I accidentally used 1 1/2 cups of butter instead of 1 1/4 cups. This is what happens when trying to read small print and trying to bake when I'm sick.