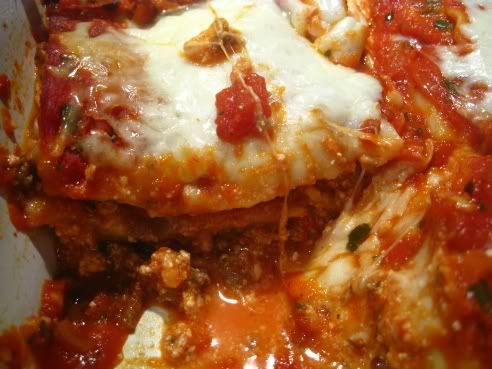 It's a little hard to see the layers, but they're there.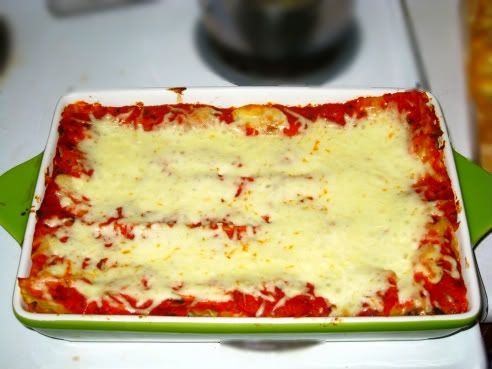 I am not Italian, but I cook a lot of Italian food.
I grew up on Long Island, where we had a very large Italian community. We also had a large Jewish community which also influenced my taste in foods, and growing up in a German household we had plenty of German foods.
But I have to say my favourite of all three is Italian.
It is a sad commentary of life that it's cheaper for me to buy a ready made lasagna than it is for me to make one from scratch.
But yesterday I was in the mood to be adventurous, so I made one. I generally don't use a recipe, so this is a just a recommendation of what to use.
I don't pretend that this is anything special, it's just a good basic lasagna from someone who hates to cook.
Lasagna
KitchenGeisha
makes one 9X13" pan
12 to 14 lasagna noodles, cooked according to directions on box
1 lb ricotta cheese (450G container)
1 lb mozzarella cheese (500 gr package), grated
2 650 ml jars pasta sauce
1 lb ground beef
1 onion, chopped
Cook pasta according to directions on box.
Brown beef and onions in frying pan until onions are translucent and beef is nicely brown. Drain off fat.
Preheat oven to 375F.
Spread some pasta sauce in the bottom of a 9x13" dish, add a layer of noodles lengthwise, lining them up one right next to the other. If the noodles don't reach to the end, cut a noodle to fit and add it width wise.
Spread 1/2 the ricotta on the noddles, covering as much as possible. Don't worry if it's not totally covered, just do your best.
Spread 1/2 the meat and onion mixture over ricotta, as evenly as possible. Top with 1/4 of the mozzarella cheese. Cover with a thin layer of sauce.
Add another layer of noodles, again fitting all the spaces. Add the rest of the ricotta, then the rest of the meat, then 1/4 of the mozzarella cheese. Add another thin layer of sauce.
Top with the last layer of noodles, again fitting the spaces. Top with the remainder of the sauce, and the remainder of the cheese if baking immediately. If baking later, do not top with cheese until ready to bake.
Cover pan with foil and bake for 30 minutes. Uncover pan and bake for 30 minutes longer.
Let stand 15 minutes before cutting.
Hopefully your cheese gets nice and stringy, mine never does.