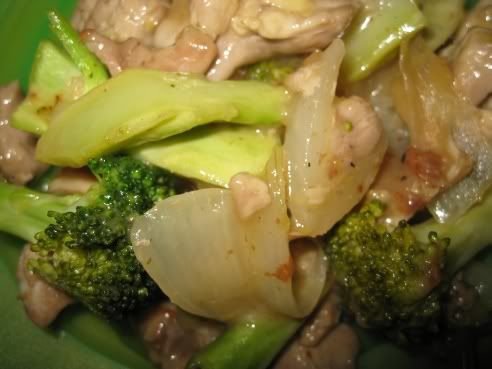 I wanted something light for tonight's dinner, and as I was getting a late start, I also needed something fast.
Lemon Ginger Chicken
KitchenGeisha
Serves 4
2 tbs canola oil
2 1/2 lbs chicken, cut into pieces (I used 8 chicken thighs with the bone and skin removed)
1 lb broccoli (I used 1 bunch of 3 stalks plus one more stalk), florets and stems cut into bite sized pieces
1 onion, sliced into thin wedges
Sauce:
2 tbs cornstarch
1 tbs instant chicken broth powder
1 1/2 cups water
zest from 1 lemon
1/4 cup fresh lemon juice
1 tbs honey
2 tsp soy sauce
1/2 tsp ground ginger
freshly ground black pepper, to taste
Mix sauce ingredients in a small bowl.
Heat oil in large pan or wok.Quickly stir fry chicken until almost cooked through, add the onions and stirfry until translucent. Add the broccoli and strifry until tender.
Add the sauce ingredients and heat to boiling. As soon as it boils, reduce heat to lowest setting and allow sauce to thicken. Add the black pepper, stir to combine.
Serve over rice or noodles.