My first experience with them was when I saw them for sale in the grocery store about a year after I got married and moved to Canada. My mother in law used to make them, and a batch of hers is where I got my first taste.
I can't say I was hooked. I didn't (and still don't) care for the hard candied citron or the hard pastry cross, both of which I picked out, but the bun itself was delicious!
My mother swears that there were hot cross buns in the store, but I never saw them in our house. I don't even remember seeing them for sale, despite growing up on Long Island. We always had my father's kuchen for Easter and Christmas, never hot cross buns.
When searching for a recipe to use, I looked at many different ones. I was looking for a more traditional recipe, despite intending to switch out the candied peel for golden raisins. One of my Facebook friends made some delicious looking hot cross buns, but has yet to share the recipe. Eventually, I found a fantastic recipe over at
Wild Yeast
.
I changed it up a bit, so if you'd like to do it the way it's been presented over at Wild yeast, here's
the original recipe
. One of the changes I made was to make the whole thing by hand instead of the mixer, as the original directions call for. It wasn't terribly difficult to do by hand, I don't think any harder than to do by mixer.
Hot Cross Buns
Wild Yeast blog
Yield: 12 buns
Sponge Ingredients:
37 g flour
190 g milk at about 100 degrees F
9 g (1-1/2 t.) sugar
7.4 g (2-1/4 t.) instant yeast
Final Dough Ingredients:
340g white flour
60 g butter, softened
57 g sugar
50 g (1 whole) egg
3 g (1/2 t.) salt
1/2 t. ground allspice
1/2 t. ground cinnamon
1/4 t. ground nutmeg
1/4 t. ground ginger
zest from 3/4 small lemon
zest from 1/3 small orange
14 g (1 T.) water
114 g dried currants
70 g golden raisins
Piping Paste Ingredients:
170 g pastry flour
50 g vegetable oil
120 g water
Glaze Ingredients:
60 g sugar
60 g water
Method:
For the sponge, combine milk and yeast in a medium bowl. Whisk in flour and sugar. The mixture will be very liquid. Cover and let rest until it is about 3 times its original volume, 30 – 40 minutes. My sponge at the end looked like a frothy brown meringue.
In a large bowl, mix final dough flour and softened butter until the butter is evenly distributed through the flour. I used my hands to combine it like I would if I were making shortbread, it will have a sandy texture.
Add egg, sugar, spices, and salt. Continue to mix until combined, again I used my hands to make sure it was well combined. The mixture will be quite dry at this point. Add the grated lemon and orange zests. Stir to combine.
Add the sponge and stir. I used my bowl scraper to incorporate the sponge into the flour/egg mixture.
Add water as needed to make a very soft dough, about 1 Tbs and mix until well combined, about 3 minutes. It is almost more like a shortbread crust at this point, and will not come together yet.
Continue to mix dough with your hands inside the bowl until it comes together into a moist ball. Turn the ball onto a kneading surface, do not dust with flour.
Knead the dough until it is smooth and elastic, about 5 to 10 minutes. Mine came together pretty quickly, I kneaded with one hand, then two, then one. The dough felt soft and smooth.
Combine the currents and raisins in a small bowl. Add the currants/golden raisins to the dough. To do this by hand, flatten your dough, add about a 1/4 of the currants/raisins to the surface of the dough. Fold the dough around the currants/raisins and begin to knead them into the dough. Repeat until all of the currant/raisin mixture is in the dough, kneading to evenly distributed through the dough. When the currants/raisins fall out of the dough as you knead, stick them right back in. Eventually fewer and fewer fall out.
Transfer the dough to a lightly oiled, covered container. Ferment in a warm place for one hour, with a
fold
at 30 minutes.
Turn the dough onto an unfloured counter. Weigh your dough, if possible, and divide that number by the number of pieces you require. Then cut each piece to the desired weight. For example, if you final dough weighs 960g and you need 12 buns, 960 divided by 12 = 80g. Each dough ball should weigh 80 grams. If you run into the problem were you have a decimal eg., 80.5, you can round down half the recipe to 80g and round half up to 81g. Or if you can just eye ball it, but that never works for me.
Lightly
degas
each piece of dough and tuck the edges under to form a loose ball. To tighten the ball, place it on the counter with your cupped hand loosely around it, and move your hand in a tight circle several times.
Place the balls on a parchment-lined baking sheet. Press them lightly with your palm to flatten them a bit. Cover and proof in a warm place for about an hour.
While the buns proof, make the glaze. Combine the sugar and water in a small saucepan and bring the mixture to a rolling boil, stirring often. Remove from the heat and set aside.
To make the paste, sift the pastry flour and combine it with the vegetable oil. Slowly add water, stirring well after each addition, until the mixture reaches the consistency of very thick glue. Don't make it so thin that it runs, but if it is too thick it will be difficult to pipe. I did not use all the water to make it pipe-able.
Preheat the oven to 450F. The
original recipe
says 440F, but I don't have that setting on my electric range.
When the buns are finished proofing, pipe the crosses onto them using a pastry bag fitted with a 1/4-inch round tip.
Bake the buns on the parchment-lined sheet at 450F until the tops are browned, about 5 minutes. Reduce the heat to 400F and continue baking until browned all over, about another 8 minutes.
While the buns are still hot, brush them with a light coating of glaze.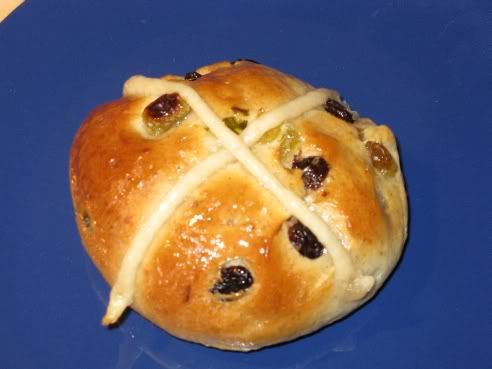 My shaping and piping leave a lot to be desired, maybe I can improve by next year.
Submitting to
Yeastspotting
..