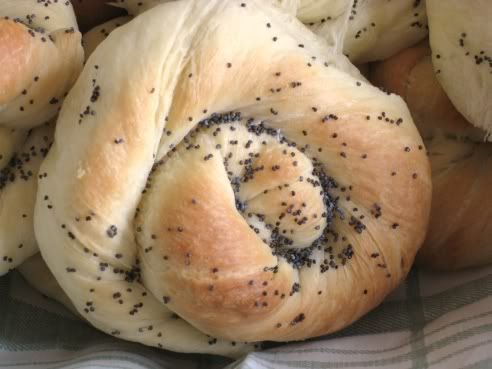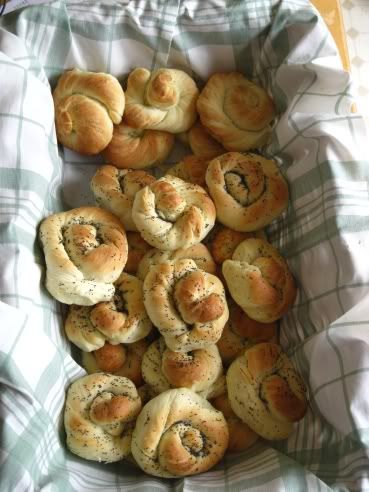 I wanted to try a new roll for Easter dinner, I've used the two same recipes for a few years. Having run across Hamelman's roll several places around the web, I decided to give it a try.
The original recipe calls for 1 tsp of instant dry yeast for 24 small rolls. I have read online that this can cause long risings due to the eggs and butter, today I just don't have the time to keep checking the rising time. To keep things on track. I used a suggested alteration in the amount of yeast and doubled the complete recipe to make larger rolls.
I have converted the instructions for hand mixing, for instructions on using your mixer you'd need to refer back to page 258 of the book.
Soft Butter Rolls
Bread: A Baker's Book of Techniques and Recipes
makes 24 small rolls at 1.33 oz per roll
1 cup hot water (105F - 110F)
2 1/2 tsp instant yeast (original recipe calls for 1 tsp)
2 tbs honey
1 egg
3 tbs soft butter
2 tbs honey
3 tbs dry milk
2 tsp salt
4 cups flour
Poppy seeds (optional)
In a large bowl, combine the hot water, yeast and honey. Whisk until frothy.
Add egg, dry milk and butter, whisk to combine. Don't worry if butter is lumpy, it will smooth out when you add the flour.
Add the salt and flour, 1/2 cup at a time, mix with spoon to combine. As the dough gets firmer, switch to using your hands instead of the spoon.
Turn the dough out onto your kneading surface and knead the dough until smooth and elastic, about 10 minutes. Shape the dough into a large ball.
Grease your large bowl with butter and return your dough ball to the bowl, turning to coat in butter.
Cover and let rise until doubled in bulk 60 to 90 minutes. I used a 90 minute rising.
Degas the dough
.
Divide your dough into the desired about of pieces. I strongly recommend using a digital scale for accuracy:
Weigh the total amount of dough.
Divide the weight by the number of pieces desired to find the weight that each piece needs to be.
Using the scale, weigh cut pieces and add or trim to reach needed weight per piece.
Shape dough pieces into balls or coils or cloverleaf, however you wish to shape them.
Place on baking sheet lined with parchment paper, and let rise uncovered until doubled, about 60 minutes. A light crust should form on the rolls.
Preheat oven to 400F. Just before baking, brush the rolls with melted butter.
Bake for 15 to 18 minutes, or until tops are golden. Remove from oven and brush with butter.
Let cool.
Notes:
After baking for 18 minutes, these looked very pale. I increased the temperature to 425 and baked for 2 more minutes, but again still pale. The next time I make these, I'd start them baking at 425 for 15 minutes and add more time if needed. Also, instead of the butter I'd use an egg wash with the poppy seeds instead fo the butter.
Submitting to
Yeastspotting
...