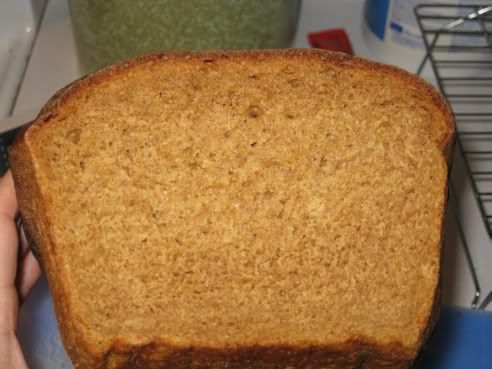 I think I've established that very often I'm not "in the moment" when I do things. This is another example...
Last week when I made
baguettes
, I saved 143 grams of prepared dough (dough that has gone through all the preparation up until shaping and baking) to make bread. I have been fascinated with the "old dough"/pate fermentee way of making bread as sourdough intimidates me.
Wikipedia says about old dough/pate fermentee:
Old dough (pâte fermentée) may be made with yeast or sourdough cultures, and essentially consists of a piece of dough reserved from a previous batch, with more flour and water added to feed the remaining flora. Because this is a piece of old dough, it has the typical ingredient of salt to distinguish it from other pre-ferments.
Essentially you lop off a piece of dough and store it either in your fridge or in your freezer, age it at least 4 days and add it to your dough to give it an acidic flavour.
I can do that and not have to worry about feeding it.
In my "thinking of twelve things at once" way, I did not consider long term and decided to make rye bread with the old dough- not realizing that the delicate sour flavour would be overwhelmed by the molasses at the very least. Ah well, next time I'll make a better decision.
If you'd like to try it yourself, here's the recipe, but at least I'd like to inspire you to try to use the old dough method in the future.
Rye Bread Made With Old Dough (Pate Fermetee)
adapted from
Allrecipes
Makes 2 loaves
A piece of
old dough
(I used a piece that weighed 143 grams and spent 3 days in the freezer, 3 days in the fridge)
1 tbs active dry yeast ( I wasn't sure how much "oomph" would be left in the old dough)
1/2 cup warm water (110 degrees F/45 degrees C)
1 1/2 cups lukewarm milk
2 tablespoons white sugar
1 teaspoon salt
1/2 cup molasses
2 tablespoons butter
3 1/4 cups rye flour (I used Bob's Red Mill Dark Rye Flour)
2 1/2 cups bread flour
In a large bowl, rip the old dough into small pieces. Add water, milk and yeast. Mix together, don't worry if the dough pieces don't dissolve very much, they'll get mixed into the dough when you knead.
Add sugar, and salt.
Mix in molasses, butter and 1 cup of rye flour.
Use a wooden spoon to mix in the remaining rye flour. Add white flour by stirring until the dough is stiff enough to knead.
Knead 5 to 10 minutes, adding flour as needed. If the dough sticks to your hands or the board add more flour.
Cover dough and let rise 1 to 1 1/2 hours or until double.
Punch down dough and divide to form two round loaves. Before shaping, you can remove the same amount of dough as you added at the beginning and save that for next time.
Let loaves rise on a greased baking sheet until double, about 1 1/2 hours.
Preheat oven to 375 degrees F (190 degrees C). Bake for 30 to 35 minutes.
I shaped mine into a loaf, I need it for sandwiches, although I don't think the dough stands up to a large loaf as I made. There are cracks around the sides and bottom that are appearing as it cool.
Submitting it to
Yeastspotting
. :)