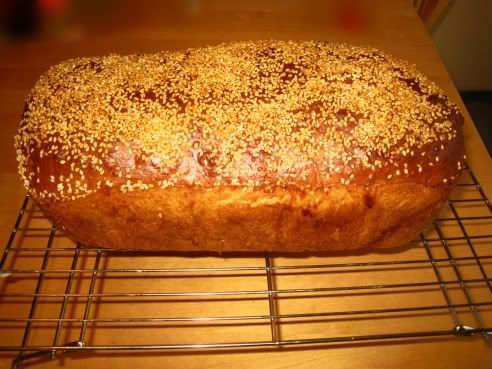 The rip on the side is from my family cutting into it right after it came out of the oven
There are some recipes that I cannot get to work for me, or at the very least come out looking like they do "in the picture".
This is one of those recipes.
I have made Victorian Milk Bread many times over the course of these past 18 months, and each time it goes a little differently.
It's
supposed
to look like this (pardon the scanning moire):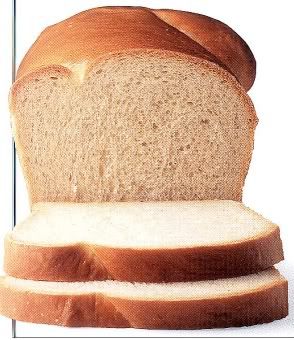 But I can never get my crust to be that nice and smooth, it always has little bubbles in it that distort the crust with a pebbly texture.
Another feature of this bread, as shown in the book Bread by Eric Trueille, is the "S" the you should shape the loaf into before placing it into the pan to proof (again, apologies for the moire):
I try every time to shape it in that lovely "S" shape, but only once did it ever remain that way after rising and baking. Ah well..
I increased my ingredients a little to get a bigger loaf, substituted powdered milk and water for the milk, honey for sugar, and I have sprinkled with sesame seeds. Those are the only changes I have made.
I will post the original measurements of the loaf, with my larger amounts in parenthesis.
Victorian Milk Bread
adapted from
Bread
by Eric Trueille
makes 1 loaf, 8x4x2 1/2 pan (makes 1 loaf, 11 3/4x5 1/2x3 1/4 pan)
2 tsp dry yeast (2 1/2 tsp)
1 tsp honey (1 1/3 tsp)
1 1⁄2 cups lukewarm milk (2 cups water + 2/3 cup dry milk powder)
3 3⁄4 cups bread flour (4 1/4)*
1 1⁄2 tsp salt (2 tsp)
Egg wash:
1 egg
1 tbs milk
Sesame seeds or poppy seeds (optional)
Sprinkle the yeast and honey into 1⁄2 cup of milk in a bowl. Let stand for 5 minutes; stir to dissolve. Stir in half of the remaining milk.
Mix the flour and salt in a large bowl. Make a well in the center and pour in the dissolved yeast. Mix in the flour. Stir in the reserved milk to form a sticky dough.
Turn the dough out onto a lightly floured work surface. Knead the dough until smooth and elastic, about 10 minutes.
Put the dough in a clean bowl and cover with a dish towel. Let rise for 45 minutes. Punch down, cover, and let the dough rise again until doubled in size, about 45 minutes.
Grease an 8 x 4 x 21⁄2-inch loaf pan. Shape the dough into an S-shape (see above). Cover with a dish towel. Proof until the dough is 1 inch above the top of the pan, about 1 hour.
Brush the top of the loaf with the egg glaze and sprinkle with seeds. Bake in the preheated oven for 45 minutes, until golden and hollow sounding when tapped underneath. Turn out onto a wire rack to cool.
* I added more and more flour to get the dough to firm up, possibly due to it pouring rain outside today. I added an extra 1 1/4 cup flour to the dough for a total of 5 1/2 cups flour