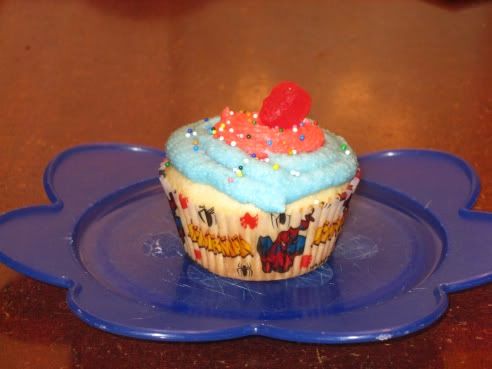 Tomorrow my youngest turns 5 - a whole hand! - and he has both an anaphylactic allergy to peanuts/tree nuts and an obsession with Spider-Man. So homemade cupcakes with a Spider-Man theme are the treat to take to Kindergarten tomorrow.
I own a copy of
Martha Stewart's Cupcakes
, but honestly I don't know why I bothered as all her recipes in that book plus other great ones are on
her site
. Alright, any excuse to buy a recipe book, lol!
I was looking for a white cupcake, my son doesn't like chocolate anything, and found her "White Cupcakes With Pastel Buttercream Peaks" in the book, and a scaled up version (36 cupcakes) on her site as "
White Cupcakes
". I used the "
Billy's Vanilla Buttercream
" icing, tinted red and blue, to top them with. I added sprinkles and some Spider-Man gummies and we are good to go.
I bought a new toy to carry these in, a white
Cupcake Courier
: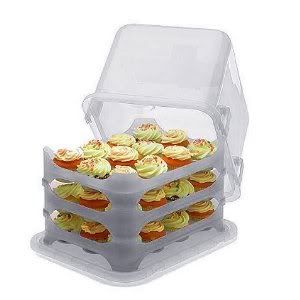 This may be one of the best things I ever bought, I'm really really excited to use it tomorrow! And it converts to a cake carrier if you remove the cupcake racks! I think I need therapy.
Martha Stewart's White Cupcakes with Vanilla Buttercream
Martha Stewart
makes 36 cupcakes
Cupcakes:
4 1/2 cups sifted cake flour (not self-rising)
2 tablespoons baking powder
3/4 teaspoon salt
1 1/2 cups milk
1 tablespoon pure vanilla extract
1 cup plus 2 tablespoons (2 1/4 sticks) unsalted butter, softened
2 1/4 cups sugar
7 large egg whites
Vanilla Buttercream:
1 cup (2 sticks) unsalted butter, room temperature
6 to 8 cups confectioners' sugar (I used 7 cups)
1/2 cup milk
1 teaspoon pure vanilla extract
Preheat oven to 350 degrees. Line cupcake or muffin tins with papers; set aside. Into a medium bowl, sift together cake flour, baking powder, and salt. Combine milk and vanilla in a glass measuring cup.
Place butter in the bowl of an electric mixer fitted with the paddle attachment, and beat until pale and creamy. With mixer on medium speed, gradually add sugar in a steady stream; continue beating until light and fluffy, about 3 minutes. Reduce speed to low.
Add flour mixture to butter mixture in three batches, alternating with the milk mixture and starting and ending with the flour. Do not overbeat.
In a clean bowl of electric mixer fitted with the whisk attachment, beat egg whites on medium-high speed until stiff peaks form. Fold one-third of the whites into flour mixture to lighten. Fold in remaining egg whites in two batches, being careful not to deflate the whites.
Pour batter into prepared tins, filling cups to about 1/2 inch from the tops. Bake until a cake tester inserted near the centres comes out clean and the tops spring back when pressed lightly in the center, 18 to 20 minutes. Remove from oven; let cool completely before icing or storing.
To make icing:
In the bowl of an electric mixer fitted with the paddle attachment, cream butter until smooth and creamy, 2 to 3 minutes. With mixer on low speed, add 6 cups sugar, milk, and vanilla; mix until light and fluffy. If necessary, gradually add remaining 2 cups sugar to reach desired consistency. Tint as desired.
I piped the icing on to the tops of each cupcake, sprinkled with some nonpareils added the gummie.