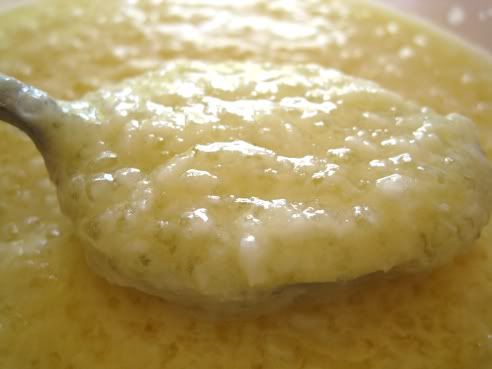 Well, the carpet monkeys (my children) have infected me and now
I
have strep throat. I don't want to eat anything sharp and pointy, like real food, so I've decided I need tapioca pudding. This time coconut.
It's the same basic recipe as the
vanilla tapioca
, but exchanging coconut milk for some of the regular milk, reducing the amount of tapioca to 2 1/2 tbs, using 1 tsp coconut extract with 1/2 tsp vanilla extract and finally throwing in 1/2 cup of unsweetened coconut.This does not slam you in the taste buds with COCONUT, it's a more subtle coconut taste.
Coconut Tapioca Pudding
Adapted from
ClubHouse
6 servings
1/3 cup sugar
2 1/2 tbsp instant tapioca
1 pinch of salt (I feel it needs 1/8 tsp)
1 large egg
2 cups coconut milk
1 cups 2% milk
1 tsp coconut extract (or more for a more intense coconut taste)
1/2 tsp pure vanilla extract
In large, heavy saucepan, whisk together sugar, tapioca, salt, milks, coconut and egg. Let stand 5 minutes.
Slowly bring to a boil over medium heat, whisking constantly, until mixture comes to a full boil (about 17 minutes). Remove from heat and stir in coconut extract and vanilla.
Let cool 20 minutes whisking twice. Pudding thickens as it cools. Stir pudding and spoon it into dishes. Serve warm or chilled. Store left over pudding in refrigerator.