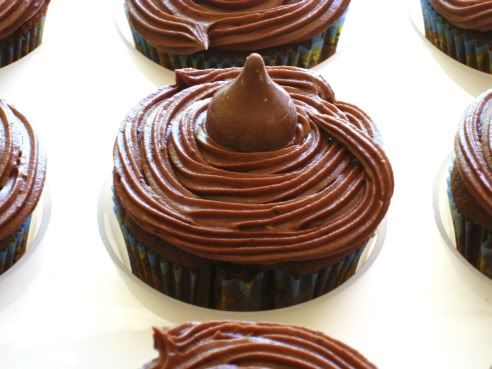 It's my eldest son's 8th birthday this Saturday, so I needed cupcakes for school.
He loves chocolate, so naturally it's chocolate cupcakes with chocolate frosting and a Hershey's kiss on top. Our school is nut free, and since our youngest has a peanut/tree nut allergy everything has to be nut free anyway.
Martha Stewart is generally my "go to" person for desserts. In this case the cupcakes were easy to find, however I didn't like any of her frosting recipes. Allrecipes had a few that looked good, the one I used turned out quite nicely.
I managed to get 34 cupcakes out of the recipe, and there was about 1 1/2 cups of frosting left after I doubled the original recipe.
Devil's Food Cupcakes
Martha Stewart Cupcakes
or on her
website
Makes 32
3/4 cup unsweetened Dutch-process cocoa powder
3/4 cup hot water
3 cups all-purpose flour
1 teaspoon baking soda
1 teaspoon baking powder
1 1/4 teaspoons coarse salt
1 1/2 cups (3 sticks) unsalted butter
2 1/4 cups sugar
4 large eggs, room temperature
1 tablespoon plus 1 teaspoon pure vanilla extract
1 cup sour cream, room temperature
Preheat oven to 350 degrees. Line standard muffin tins with paper liners. Whisk together cocoa and hot water until smooth. In another bowl, whisk together flour, baking soda, baking powder, and salt.
Melt butter with sugar in a saucepan over medium-low heat, stirring to combine. Remove from heat, and pour into a mixing bowl. With an electric mixer on medium-low speed, beat until mixture is cooled, 4 to 5 minutes. Add eggs, one at a time, beating until each is incorporated, scraping down sides of bowl as needed. Add vanilla, then cocoa mixture, and beat until combined. Reduce speed to low. Add flour mixture in two batches, alternating with the sour cream, and beating until just combined after each.
Divide batter evenly among lined cups, filling each three-quarters full. Bake, rotating tins halfway through, until a cake tester inserted in centers comes out clean, about 20 minutes. Transfer tins to wire racks to cool 15 minutes; turn out cupcakes onto racks and let cool com
Creamy Chocolate Frosting
Allrecipes
Serves 12 (would be enough to frost a 9"x13" sheet cake, or possibly a 8" 2 layer cake)
2 3/4 cups confectioners' sugar
6 tablespoons unsweetened cocoa powder
6 tablespoons butter
5 tablespoons 2% milk*, **
1 teaspoon vanilla extract
In a medium bowl, sift together the confectioners' sugar and cocoa, and set aside.
In a large bowl, cream butter until smooth, then gradually beat in sugar mixture alternately with evaporated milk. Blend in vanilla. Beat until light and fluffy. If necessary, adjust consistency with more milk or sugar.
* Original recipe calls for evaporated milk, but 2% worked out just fine.
** I needed about 2 to 3 tbs more milk in order to get it to piping consistency.
These are the doubled ingredients, enough for 36 to 48 cupcakes:
5 1/2 cups confectioners' sugar
3/4 cup unsweetened cocoa powder
3/4 cup butter
1/2 cup and 2 tablespoons 2% milk
2 teaspoons vanilla extract
Directions as above