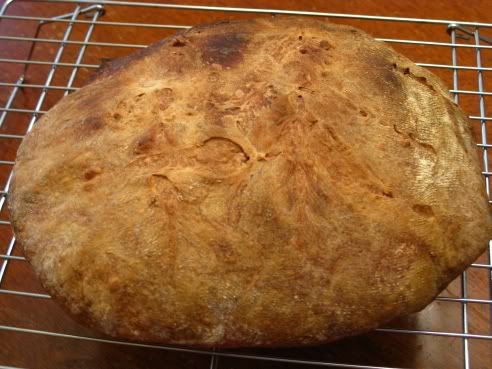 Who can resist a bread with a name like that?
My latest "sub hobby" of bread making has been making
sourdough starters
. I currently have three on the go: "George", my original 100% rye starter (200% hydration), an unnamed 50% hydration white flour starter fathered by George, and "Phyllida", a whole wheat/pineapple cultured now white starter that I turned into a 76% hydration mother.Trying to keep up with feeding and using them has been difficult, despite two of them being in my fridge.
I thought I would try my hand at a basic sourdough bread, one that wouldn't take forever (i.e. overnight) to make. I found a recipe for Pain De Campagne in
Bread
by Eric Treuille and Ursula Ferrigno that I adapted, and then wound up letting it sit overnight anyway. *sigh*
It seems that you can make your sourdough more sour by letting the dough sit overnight to develop the flavour. I let mine sit overnight in my fridge, then taking it out 4 hours before I planned to bake it to warm up.
Basic White Sourdough I
adapted from
Bread
by Eric Treuille and Ursula Ferrigno
makes 1 good sized loaf
1 cup sourdough starter (272 grams of my 76% white mother starter)*
1 cup water
3 cups bread flour
1 1⁄2 tsp salt
Add the sourdough starter to a large bowl, then mix in the water.
Mix in the flour and the salt.
Turn the dough out onto a lightly floured work surface. Knead until smooth and elastic, about 10 minutes.
Grease the bowl, return the the dough to the bowl and cover with plastic wrap.
Put the bowl into the the fridge and keep it there over night.
In the morning, 4 hours before you want to bake the bread, remove the dough from the fridge. Degas the dough and shape into a ball and place in well floured proofing basket (I use cheap bamboo baskets for the dollar store)
Let ripen and rise for at least 4 hours.
Preheat oven to 425F. Line baking sheet with parchment paper, mist paper with water.
When dough is risen and ripe, turn dough out onto the sheet, slash it if you want and spray with water.
Bake at 425F for 60 minutes. Remove and cool on rack.
* The starter recipe given in the book is an 81% hydration white starter.
Submitting to
Yeastspotting
.