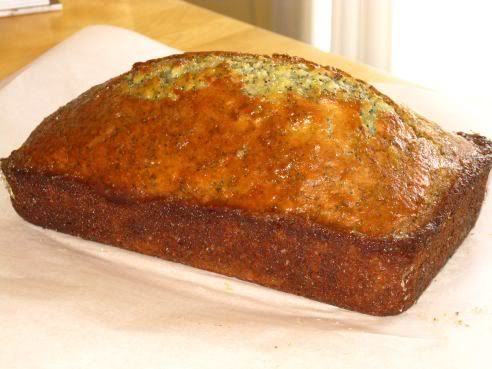 I've been invited over for tea with my recently moved in next door neighbours this afternoon. As it's Spring, what better to bring then freshly made
Lemon Poppy Seed Bread
?
I found it in the April 23, 1997
Toronto Star
Food section and have been making it ever since. Except for my mother's friend's Lemon Coconut loaf, this is
the best
lemon bread I've ever had. Even beats Starbuck's Lemon Poppy Seed loaf (in my and my husband's opinion). The secret is the glaze, which permeates the loaf and makes it moist and dense, full of lemon flavour.
My husband requested a "home loaf" when I told him what I was bringing next door. I'm hoping my lovely new neighbours like lemon.
Lemon Poppy Seed Loaf
Barb Holland, The Toronto Star
makes 1 loaf
2 cups flour
3/4 cup sugar
1
tablespoon
baking powder
1/2 teaspoon salt
2 eggs
1/3 cup canola oil or safflower oil or sunflower oil
1 cup milk
1/4 cup poppy seeds
grated rind of 1 lemon
Glaze:
1/4 cup fresh lemon juice*
1/4 cup sugar
In a bowl, combine flour, sugar, baking powder, and salt.
In another, large, bowl, lightly beat eggs with oil and milk until smooth. Add poppy seeds and lemon rind. Add dry ingredients and combine just until moistened.
Spoon into a 9" x 5" loaf pan**,
well greased
or lined with parchment paper. Bake in preheated 350 degree oven 50 to 60 minutes or until a toothpick comes out clean.
Meanwhile, make the glaze by combining the sugar and lemon juice in a small saucepan, and heating until sugar dissolves. Keep it warm to prevent it from thickening.
Remove loaf from oven, pierce many places with skewer or toothpick and pour glaze over top. Cool on rack 10 minutes. Remove loaf from pan and cool completely.
* I usually use the juice from the zested lemon.
** You can use a 8" x 4" loaf pan for a higher loaf. Or maybe it's just my oven that makes them smaller on the edges and higher in the middle.
I was going to show the second loaf, but it got stuck in the pan and ripped - I was ironing an forgot to remove them soon enough from the pans. Still delicious, but not very pretty.