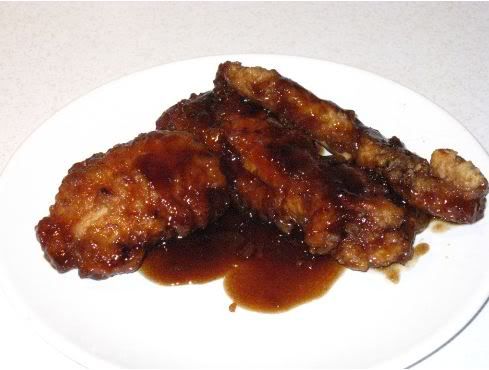 I have no idea why these would be considered "Japanese" style as opposed to any other Asian style of cooking. What makes something particularly Japanese or Chinese or Italian?
The
original recipe
came gliding into my inbox one day as I was contemplating what on Earth to make for dinner - a daily problem. The recipe was for chicken wings, but it was easily modified for thighs and strips. I've been meaning to try it with pork tenderloin, but I haven't bought any since I acquired the recipe.
There are two steps to this, a fry step and a bake step. You
can
skip the fry step and just cook the chicken in the sauce, or you can use the sauce for a marinade. I double the sauce amount as we like to spoon it over rice or noodles.
"Japanese" Style Chicken
3 pounds chicken - thighs, tenders, whatever you have
1 egg, lightly beaten
1/2 cup
icy cold
water, as cold as you can stand it
1 cup all-purpose flour for coating, or more as needed
1 tbs freshly ground back pepper, more or less to taste
1 cup canola oil or other healthy oil
SAUCE
*
3 tablespoons soy sauce
3 tablespoons water
1/2 cup white sugar
1/2 cup MINUS 1 tbs white vinegar (7 TBS in all) - one of my daughters prefers it this way
1/2 teaspoon garlic powder, or to taste
1 teaspoon salt (I leave the salt out as the soy sauce is salty enough for us)
Preheat oven to 350 degrees F (175 degrees C).
**
Mix flour and pepper to combine. Mix egg and water to combine. Dip chicken in egg and coat with flour.
Heat oil in a large, deep skillet over medium-high heat. Fry chicken until deep brown. Place in a shallow roasting pan.
In a small bowl combine soy sauce, water, sugar, vinegar, garlic powder and salt, whisking vigorously until sugar has dissolved. If using cornstarch, add it now. Pour over chicken.
Bake in preheated oven for 30 to 45 minutes (or until it's done), basting with sauce often.
*
If you like your sauce thicker,
add 2-4 tsp cornstarch to sauce before adding it to the chicken.
**
I'm generally in a rush with dinner,
and chicken is something I like to make sure is completely cooked. So I cook the chicken at 400F-425F for 10 minutes before adding the sauce to make sure it cooks through.
You may need more egg and water if you are using a larger amount of chicken.
My husband has said that this dish is reminiscent of an item a local Chinese restaurant chain has on their menu. The chicken pieces come out moist and tender when lightly fried first, then baked in the sauce.