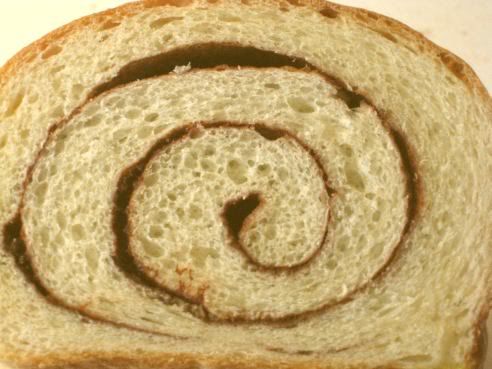 I
thought
I had raisins..
It's March Break here, and I'm going a bit squirrelly with all the kids being home. I've been meaning to try making Cinnamon Raisin bread, but when I got to the pantry I discovered that they've all been eaten with my husband's granola. Bleh.
So Cinnamon Raisin Bread became Cinnamon Swirl Bread.
I modified
this recipe
from Allrecipes. Check out the fantastic pictures on the recipe page for some further shaping and preparation ideas.
Cinnamon Swirl Bread
makes two 9x5" loaves
Dough:
2 cups warm water (110 degrees F/45 degrees C)
1/3 cup honey (for a sweeter bread, use 2/3 C, white sugar can be substituted)
1 1/2 tablespoons active dry yeast
1 1/2 teaspoons salt
1/4 cup butter
6 cups bread flour
Cinnamon Swirl
1/4 C packed brown sugar
1/4 C white sugar
2 Tbs cinnamon
1 egg
1 Tbs water
In a large bowl, dissolve the honey in warm water, and then stir in yeast. Allow to proof until yeast resembles a creamy foam.
Mix salt and butter into the yeast. Mix in flour one cup at a time. Knead dough on a lightly floured surface until smooth. Place in a well oiled bowl, and turn dough to coat. Cover with a damp cloth. Allow to rise until doubled in bulk, about 1 hour.
Combine the swirl ingredients.
Degas the dough
. Knead for a few minutes, and divide in half. Roll the dough out flat, spread half the cinnamon and sugar mixture on the dough. Roll up the shortest end from the bottom to the top as with a jelly roll. Repeat with second piece of dough.
Place into two well oiled 9x5 inch loaf pans. Allow to rise for
at least
30 minutes, or until dough has risen 1 inch above pans. Your rising time may vary due to variation in temperature in your rising location.
Before placing in oven, mix egg and water. Brush on the top of loaves, covering the surface completely.
Bake at 350 degrees F (175 degrees C) for 30 minutes to 40 minutes. Remove from oven and pans, store on a wire cooling rack.
If the sides and bottoms of your loaves feel soft, place them on a cookie sheet and return to the oven for a few minutes until they feel firmer.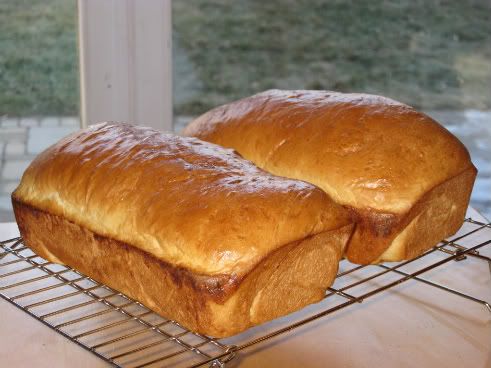 It's only been two hours since they came out of the oven and half the first loaf is gone. So I'm hoping that the family likes the taste rather than they will just eat anything.
Think I'll submit to
Yeastspotting
..