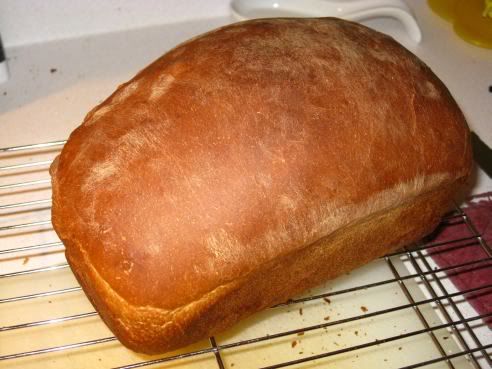 I cannot get my head around the fact that bees are the only way we can get honey. Bees.
If you do a Google search on "How to make honey", the pages that come up are about how to process honey. Pages say "Of course, bees
make honey
." and "To enjoy your own honey, simply let the bees do most of the work." So be nice to the bees, or no more Honey Bread.
Doing some last minute shopping at my local Loblaws, I saw that they had their higher end honeys on a 50% off sale. The Alfalfa was sold out, but I picked up two bottles of Acacia Honey.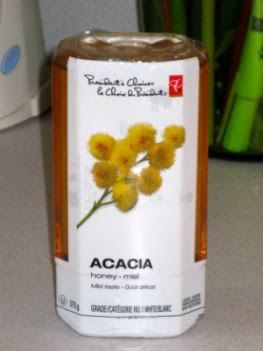 It's lighter than the usual No Name Honey I use, so maybe the flavour won't be as distinctive. But I'm looking forward to trying something new.
Honey Bread
Makes one 2 lb loaf
Adapted from Beth Hensperger's

The Bread Lover's Bread Machine Cookbook
2/3 cup warm water
2/3 cup warm milk
3 tbs honey
1 1/2 tsp instant yeast
2 tbs butter
1 1/2 tsp salt
3 3/4 cups flour
Combine the water and the milk together in a large bowl, sprinkle with yeast. Mix to dissolve. Add the honey, stir to dissolve.
Mix in the butter, the salt and the flour, one cup at a time.
Let the dough sit for 5 minutes, then turn out on to a kneading surface and knead for 8 to 10 minutes, until it becomes smooth and elastic.
Lightly
dust the dough with flour if it's sticky, continuing to knead to draw in the new flour. Form dough into a ball.
Grease your original bowl, place the dough ball in best side down, turn dough ball over to coat. Cover bowl with tight plastic wrap. Let rise for 60 to 90 minutes, doubling in size.
After dough has doubled,
fold
it to
degas
. Let rise a further 60 minutes, or until it's doubled in size.
Grease a 9x5 loaf pan, or for a higher loaf, 8x4 loaf pan. Again, fold the dough to gently degas, and shape for a loaf pan. If you prefer a free form loaf, then form into the shape.
Preheat oven to 350F.
Let rise 45 to 60 minutes, or until you think it's fully risen.
Bake for 60 minutes, or until it's done to your satisfaction.