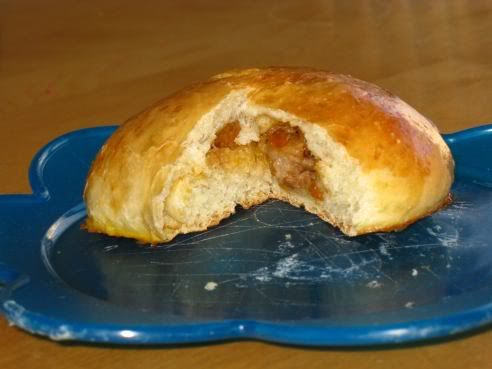 I am sincerely and deeply grateful that I am able to have enough food to
have
leftovers when so many do not have enough to eat. But I have to admit I hate trying to figure out what to do with them.
I had leftover pork chops, cooked in a
jerk-style barbeque bottled sauce
in the oven - there's snow on the ground and minus Celsius temperatures so I'm not going out to barbeque - with no clue as to what to do with them. Inspiration, or desperation, struck.
I love Char Sui - Chinese BBQ Pork Buns - and this recipe has been hanging around my binder for a long time waiting for a time when I could attempt it.
I urge you to go to the
original recipe
as there are visual step by step picture on making this dish, and the ingredients for the original filling. My recipe below is an adaption.
Jamaican Jerk Pork Buns
makes 20 to 24 buns, depending on size
Dough:
2 cups warm water
4 teaspoons instant yeast
1/4 cup oil
1/2 cup sugar
3 cups all-purpose flour*
2 cups pastry flour
1 teaspoon salt
Filling:
1 lb. cooked boneless barbeque pork, diced into small pieces
1/2 small onion, chopped
1 tsp Hoisin sauce (more to taste)
Glaze:
2 egg yolks
3 tablespoons milk
In a large bowl mix together warm water, instant yeast, oil and sugar. Stir in 2 cups pastry flour, 2 cups flour and salt.
Transfer to a floured surface and knead, adding remaining flour a little at a time, until the dough is smooth and elastic, about 8-10 minutes. Place into a greased bowl, cover and let proof for 1 hour or till double in bulk.
Meanwhile, add pork and onion to a frying pans and heat, stirring frequently. Onion should become translucent. Let cool.
After dough has risen, transfer to a floured surface (try not to deflate the dough too much).
Roll dough into a long rope shape. Using a sharp knife cut dough into 20-24 pieces.
A better method in hindsight would be to weigh your dough, calculate how many pieces you want, divide the dough weight by that number and then cut and weigh each piece.
My pieces came out varying sizes when I tried to divide the dough into 24 pieces.
Roll each piece into a ball. Flatten each piece one at a time in your palm.
Place a heaping tablespoon into the center of the dough. Pinch the dough together with your fingers.
Then shape into a ball. Place onto a parchment lined cookie sheet.
Seam side down about two inches apart. Cover with plastic wrap for 45 minutes.
Glaze each bun with the egg yolks and milk allow to sit for 5 minutes then repeat again. Bake in a preheated 350F oven for about 20 minutes, or until the tops are browned lightly. Cool on a wire rack.
*I needed an extra 1/2 cup of all purpose flour and it was still a bit sticky.
These tasted delicious, the tamarind in the barbeque sauce highlighted the bit of Hoisin sauce and onion. My husband's one complaint as that the filling could be juicier. I agree, and next time I would add more Hoisin sauce. I would have this time, but I was out after the 1 tsp.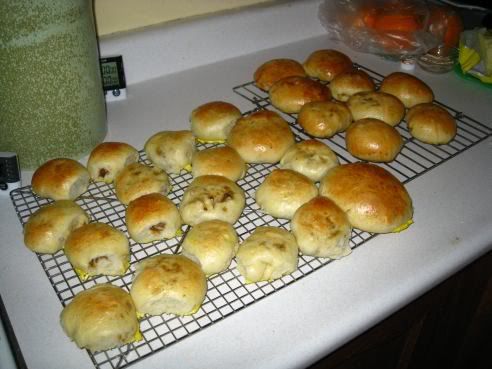 My shaping leaves a lot to be desired, but they taste good, and that's important.
Submitting to
Yeastspotting
.