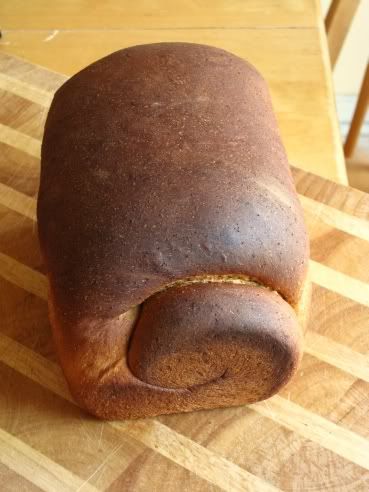 Another loaf for "Molasses Madness!", this time Anadama Bread.
When I make my weekly loaves, I try and find something I haven't made before so I can blog it - I don't want to blog the same recipes over and over. Sometimes it's difficult, as when I need to make white bread over and over again each week, but other times, like now, it's easier.
The obsession with molasses continues, don't ask why, I have no idea. This recipe fit the bill as my husband had just used up all the eggs, which I needed to make a Zopf loaf that day.
This loaf, as with all the loaves I have made with molasses, is moist and slightly sweet. My family has been enjoying the Month of Molasses breads, hopefully you will find them delicious.
This loaf took about 4 hours to rise. I don't know if my kitchen is too cold, but it took that long. Well worth the wait, though.
I'm submitting to
yeastspotting
, hoping to spread the madness. :)
Anadama Bread
Taste Of Home
makes 1 loaf
1/2 cup water
1/4 cup cornmeal
1/2 cup molasses
2 tablespoons butter
2 1/4 tsp active dry yeast
1/2 cup warm water (110° to 115°)
1 teaspoon salt
3 to 3-1/2 cups all-purpose flour*
* I used about 4 cups flour
In a small saucepan, bring water and cornmeal to a boil. Reduce heat; cook for 2 minutes or until mixture thickens, stirring constantly. Remove from the heat; stir in molasses and butter. Cool to 110°-115°.
In a large bowl, dissolve yeast in warm water. Add the cornmeal mixture, salt and 2 cups flour; beat until smooth. Stir in enough remaining flour to form a soft dough.
Turn onto a floured surface; knead until smooth and elastic, about 10 to 15 minutes. Place in a greased bowl, turning once to grease top. Cover and let rise in a warm place until doubled, about 1 hour.
(Mine took 4 hours to rise to doubled. I degassed at 90 minute intervals to get more movement)
Punch dough down. Turn onto a lightly floured surface; shape into a loaf. Place in a greased 9-in. x 5-in. loaf pan. Cover and let rise until doubled, about 1 hour.
Bake at 375° for 25-30 minutes or until browned (cover loosely with foil if top browns too quickly). Remove from pan to a wire rack to cool.