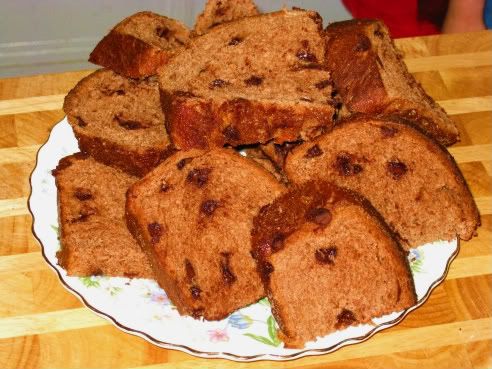 I'm trying to work my way through all the fresh yeast I bought, so I'm converting recipes with dry yeast into fresh yeast loaves.
Today it's the "Chocolate Challah" recipe I've adapted from Beth Hensperger's book
The Bread Lover's Bread Machine Cookbook
. Only once could I ever get it to work in my bread machine, it just didn't come together after the first time. However, it works pretty well when you do it by hand.
I've added different ingredients from the original and more of them, correcting the amount of flour/liquid ratio.
Fresh Yeast Chocolate Chocolate Chip Espresso Egg Bread
makes 2 loaves
1 1/4 cup warm water
30 grams fresh yeast
1/2 cup dry milk powder
2 large eggs
1 tbs vanilla extract
3 tbs butter
1/3 cup white sugar
1/3 cup brown sugar
1 tsp instant espresso powder
2 tsp salt
1/3 cup cocoa powder (dutch processed recommended)
6 cups white flour (use less if your dough is dry)
1 cup semisweet chocolate chips
White sugar for sanding
In a large bowl, crumble the fresh yeast. Add warm water and milk powder, whisking to combine with yeast.
Whisk in the eggs, vanilla, and butter.
Add the sugars, espresso powder, salt and cocoa powder, whisking for dear life or until frothy.
Mix in the flour, one cup at a time. If your dough feels dry before the last of the flour is added, don't add it.
Turn the dough onto a kneading surface. Your dough may feel sticky, add flour sparingly after the 6 cups has been combined.
Knead for a few minutes, then flatten dough slightly. Sprinkle with 1/2 cup of the chocolate chips, folding over the dough to incorporate. Flatten the dough again, sprinkle with remaining chips, again folding and kneading to incorporate chips. Stick with it, they WILL incorporate into the dough - or you could just say they won't and eat them.
Knead again for a few more minutes, until it's soft and elastic. Grease your large bowl, return your dough to the bowl, turning to coat.
Let rise 2 hours, or until doubled in size.
When dough has doubled, degas and divide into two pieces. Shape each into a ball, roll in white sugar and place into greased pans. I used deep European pudding pans, but any deep pans can be used.
Let rise 60 minutes, or until doubled.
Preheat oven to 400F and bake for 45 minutes.
Remove from oven and cool completely or chocolate chips (if you used them) will be too melty.
Posting this to
yeastspotting
where all the cool yeasted stuff hangs out.